FASHIONABLE. AFFORDABLE. DISCREET. FUNCTIONAL.
BACKGROUND STORY
It was a Saturday afternoon in January 2016, I had been watching Everest the movie with my son Emile and his sister Esther (Esther kept asking why would someone want to climb Mount Everest if you might die!). After the film I had an errand to run, Emile wanted to come for a drive and we set off. 5 minutes later Emile let out a shout and started squirming in his seat. I looked at his feet which were turned inward. Emile tried to lift his leg and said he can't move it. I drove straight to A and E and it took 3 people to get him out of the car and into a wheelchair.
Emile remained in the assessment unit whilst they undertook further tests, the initial diagnosis was Transverse Myelitis, an inflammation of both sides of one section of the spinal cord.  However, after 2 weeks with no improvement, Emile had another MRI scan under general anaesthetic. Medics advised that Emile had had a spinal cord stroke which left him paralysed from the chest down.
This was very traumatic for the whole family; however, Emile has coped very well and is very resilient. Emile has no bladder or bowel function and we have to self-Catheterise to empty his bladder. Emile likes to wear joggers as they are more comfortable to wear however access to Catheterise is difficult.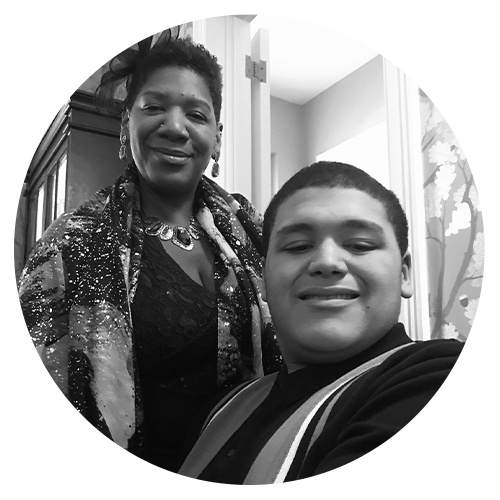 THE IDEA
I undertook some research e.g speaking to wheelchair users and their carers, physios and OT's to get an idea on what issues they face whilst getting dressed or supporting someone to get dressed.
I approached the fashion institute at the Manchester Metropolitan University and I was advised that they had been undergoing some research with the Stroke foundation on the difficulties stroke survivors face trying to find suitable clothes to enable them to return to work. I spoke to some of the students and was approached by Rebecca and Melissa Everett who wanted to make a prototype based on my idea of fly front opening joggers and they added a polo top with magnet openings to make a smart casual tracksuit which could be suitable to wear to work.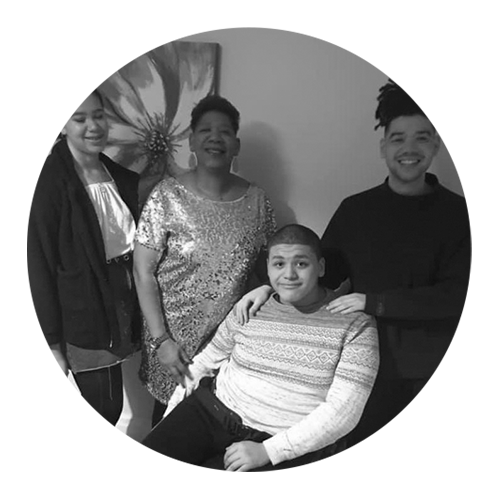 ABOUT ME
I am 56, a mother of 3 children (Theo 27, Emile 20 and Esther 18 ) I have worked as a mental health social worker for over 20 years and felt ready for a challenge and decided to go ahead and turn this idea into a business; Bealiesadaptivewear.
The name Bealie comes from Emiles nickname which his sister Esther calls him. I have some experience of clothing manufacturing as my mum was a home machinist. I am looking to support British manufacturing and will be making the products in the UK.
THE PRODUCT
Adaptive joggers/trousers
Emile likes to dress like his peers e.g joggers, sports t-shirts and he likes his trainers! However we couldn't find joggers with a fly opening to enable clean catheterising. Initially I tried a normal fly front zip position however it didn't allow a big enough space to catheterise. We tried the zip in different positions and decided that diagonally we get a larger area for catheterising and it adds a nice design feature to the joggers. The zip is a large plastic zip which is easier to use with a protective flap underneath to protect the skin.
The joggers are designed with a higher back which allows full coverage whilst sitting and transferring. The joggers are made with soft cotton jersey for comfort with a large soft ankle cuff that can fit over the foot in most positions and sits comfortably on the ankle. A side pocket on the thigh for style and small change with the Bealies logo just above.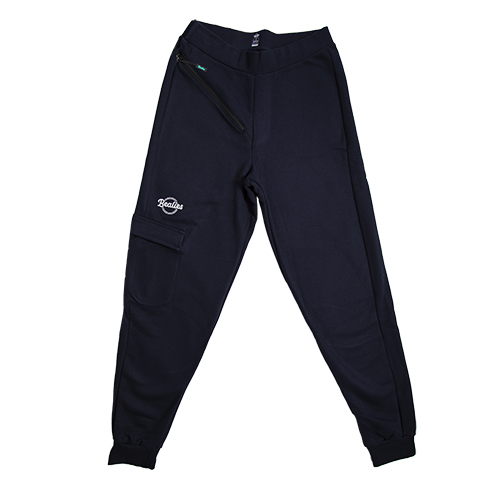 ADAPTIVE CLOTHING MARKET
There has been a rise of searches for adaptive clothing. (global fashion search Lyst 2019).
There is only one mainstream designer who has an adaptive range at present (Tommy Hillfigger). However expensive and sold as part of a designer range which is not accessible to everyone.
References: The Guardian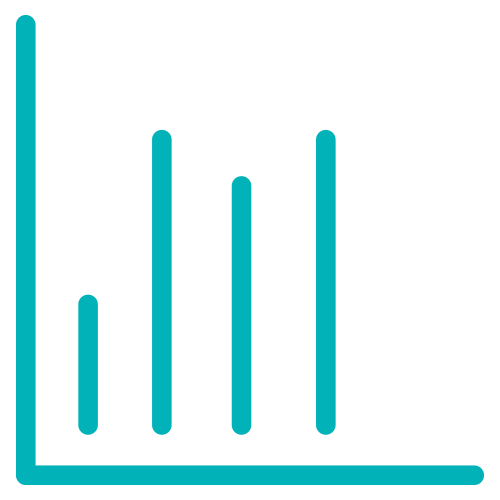 Source: (Family resources survey 2016/17)
THE PURPLE POUND
Disabled shoppers represent £249bn of spending power. Known as the "purple pound", they remain the largest untapped consumer market. This year, Coresight Research even estimated the adaptive clothing market will reach $288 billion  in 2019.
The UK high street does not yet reflect this shift. Unlike the US, where a handful of mainstream stores have adaptive lines, UK retailers remain slow to enter the market. Designers must also address the unmet demand for disability-friendly workwear and occasion wear as identified in the project with Manchester Metropolitan University.  
Marks and Spencer's are selling easy dressing range for children in stores and online. Tommy Hillfigger has had some success with an inclusive range each season, however the clothes are very expensive. Therefore I feel there is a market for my clothes and my business has the potential to grow.
References: The Guardian
THE FUTURE FOR BEALIES
I would like to continue to add to the collection e.g branch out into women's wear capsule pieces (culottes, leggings/jegggins) or unisex pieces to be more inclusive for all disabled. 
I want the range to model mainstream fashion and update the range seasonally.
BEALIES IN ACTION
Hi my name is James Freeman and I have cerebral palsy.
Growing up, I always knew I was different. I always knew that in some way I might have to work harder than others.
No one teaches you how to be disabled, it's one of those things you just have to figure out on your own. That can be hard for anyone.
However, in my opinion, you have to make the best of things because everyone is dealing with something.
I've worked hard for my life and I've achieved a lot.
I have an incredible family, the best friends and I'm pretty successful in a lot of things.
Unlike so many, getting older excites me because it's another year I get to experience the world, so that in the future I can be that kick-ass granddad with all the amazing stories.
Ben Callander – Age 20
Disability: Cerebral palsy, mainly affects my ability to walk
I'm currently a university student studying sport development at Liverpool John Moore's, I want to go down the PE teaching route once I complete my degree next year. So would have to do another year of teacher training. In terms of my racing, I've represented GB at junior level and my aims are just to see how far I can go and reach my potential whatever that might be 🙂 thanks
My name's Shaun White. I'm 23 years old and was born with a condition called Cerebral Palsy.
I'm a Disability Sports Coach and Teaching Assistant. In my spare time I compete in wheelchair racing nationally and internationally. In 2012 I had the honour of carrying the Olympic torch and in 2018 I represented Great Britain in the European Wheelchair Championships.
My Future Dream is to one day compete in the Paralympics, representing Great Britain once again.
C7 spinal cord injury from an attempt at looking like David hasselhoff in Baywatch.
I run Adapt To Perform the world's largest resource for adapted fitness. Helping over 10k people all around the world get fit and healthy.
My plans for the future include growing my recent membership platform (think Netflix for adapted fitness) and Change the fitness industry into a more inclusive place!
CUSTOMER REVIEWS
Love the new joggers, I wore them on a session teaching PE. Well done on a great design, they are a great product and you should do very well with them,
Bealies, they are amazing. You need to get them, you need to purchase them and make yourself more independent.
Fitted perfectly for somebody who's in a wheelchair
Quick, easy, no problems, no mess, no fuss doing my catheter straight away not having to worry about anything.