FASHIONABLE. AFFORDABLE. DISCREET. FUNCTIONAL.
BEALIES ADAPTIVE WEAR
Bealies Adaptive Wear is an online shop selling adaptive joggers (clothing) for wheelchair users. The product is the brainchild of Caron Mcluckie whose son suffered a spinal cord stroke in 2016.
Since her son had to self catheterise they found that the joggers he likes to wear do not come with fly zip openings. This was difficult.
At first, Caron began to put zips in regular joggers however found this to be really expensive. It also didn't solve the poor fit and sag at the back!
From this Bealies was born.
We can't wait to create this new style of jogger and bring it to the masses. Thank you so much for joining us on this journey!
"QUICK, EASY, SUFFICIENT, RELIABLE, KEEPS YOUR DIGNITY, KEEPS YOUR SELF-ESTEEM, AN AMAZING PRODUCT" -SHAUN
ABOUT BEALIES
Caron began to research the market and approached the fashion institute at the MMU who were also working with the stroke association to design clothes for disabled people. The outcome is a pair of joggers which sit higher at the back and the front with a unique design feature of a diagonal front zip to enable easy self catheterising.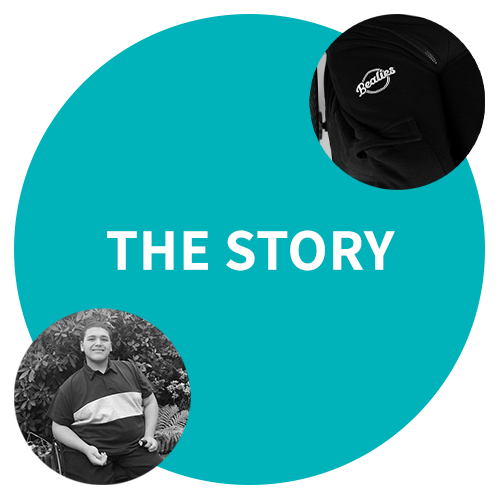 CUSTOMER REVIEWS
Love the new joggers, I wore them on a session teaching PE. Well done on a great design, they are a great product and you should do very well with them,
Bealies, they are amazing. You need to get them, you need to purchase them and make yourself more independent.
Fitted perfectly for somebody who's in a wheelchair
Quick, easy, no problems, no mess, no fuss doing my catheter straight away not having to worry about anything.
STAY INTOUCH WITH BEALIES
Sign up to get the latest news and info from Bealies Adaptive Wear
OUR SPONSORS
We are so pleased and proud to have Hollister on board with our Bealies journey.
Hollister Incorporated is an independent, employee-owned company that develops, manufactures, and markets healthcare products and services worldwide.  
Hollister has been serving healthcare professionals and patients for more than 95 years — making a difference in the journey of life for people throughout the global community. This year marks the company's 100th.anniversary.